Material posted here is intended for educational purposes only, and must not be considered a substitute for informed advice from your own health care provider.

Courtesy of Dr. Irene Matiatos Copyright© 1998-2001. The material on this website may be distributed freely for non-commercial or educational purposes provided that author credit is given. For commercial distribution, please contact the author at Doc@drirene.com
50 Edited
Submit
Wednesday, August 01, 2001

Thanks AJ for answering me. I value your support. I think the division of duties is important but only part of the problem here. I don't want this to seem like a husband/wife fight about who does dishes. Even when I'm flat out sick on the couch, things are the same. He waits to see if I'll get up to make supper for them, he doesn't keep our son occupied, so that I have him running in every two minutes. If I said I had a headache...he had one too, if I said I didn't feel well...he hadn't felt well all day also, ., etc. If I had a rough day at work and came home extra tired...guess what...he just couldn't keep his eyes open. (Oh he's gooood) This happened with amazing regularity. One day I told him I had menstrual cramps and asked him if he had them too. He said his back hurt a little. I was so fed up with it I made sure I drew it to his attention every time he did it. He's finally gave up on that one. I don't think he even realized that he did it. The point is that he won't allow there to be a time where he is more able to look after things than me, if he can help it. About two years ago I had to take a week off of work because of my nerves. Shortly after that I decided that I needed more time to myself and found a part time job (which is pretty much full-time again-rats). At that time he kept saying that he supported me working part-time but just before I quit my full time job he ran our credit line way up doing everything he could think of to his truck. I quit anyway and guess what...we still haven't paid much off on this loan. It's so much more than housework. Its about his needs always being what counts. He gets in horrible moods for no reason. When I press him for a reason he thinks for a while and then starts a list of all the things I do that bug him. I realize that he does this as an excuse and that I can stop taking the blame for his moods. All my energy is wasted on trying to figure out what I do wrong or why he isn't happy. I realize now that it's not my problem. My son is paging me so I'd better go. I'll check back later. Again thanks for your feedback. It helps so much to hear from others. Norma

Submit
Wednesday, August 01, 2001

Dear Cats, Perdida: Yesterday I wondered the same thing! When I was reading some of your old posts, you wrote about a phone call that you made to him and he thought it was 'her'. Though you weren't sure at the time if she was in the picture, your post was indicative that she might be. I must have missed something here, but did you say that you 'saw' them together??? I'll have to try and find it. Please clarify. hmmmmm. interesting. If this be the case, then yes, I think you have 'the answer' as to why he was not willing to go to therapy. And then, also, yes, as to the 'lack' of EVERYTHING. His other chickeepoo is probably his 'mother' which makes him feel safe, and you are the 'real woman' which makes him feel like a 'real man,' which takes work. Sounds like Peter Pan with all the trappings, complete with tons of baggage! I wasn't born yesterday! I am going through the very same thing with Dr. Psycho. He and I were great together as long as I didn't expect much BECAUSE he wanted to have his cake and eat it too. I have learned more about this man since we've been broken up then when I was with him. He is a major, major player. A major womanizer because he can't get enough - and then when he becomes bored with one he has another one he's working on - and these women are overlapping not knowing that he just had sex with someone else last night. Though I've not seen anyone over spending the night, (yet) he is working the circuit and has his little network going making promises to nobody but getting it from everyone. I say 'when pigs fly' the chances of him ever being with me again. I knew he was like this before we ever got going in our relationship as a co-worker of mine warned me - however, Dr. Psycho knew I was warned and promised me the moon - I WAS THE ONE - and all of this happy horseshit - though I have no regrets that I became involved, I regret letting my entire heart, mind, body and soul become involved. Now its hard to wiggle out of. But I'm doing it. I have not spoke to him in over 6 weeks! I hate seeing him though - sometimes I see him with his "screw-me" clothes on - that is "Look at me - I'm going out with a woman" clothes! Cracks me up because I know he's an abuser and is not happy with himself. The man even wears a girdle under his clothes to magically disappear 10 lbs of his middle gut! The next thing I'll see is something with his hair! Giggle! Hopefully Perdida, I've made you smile if nothing else. I do know and share the pain you are going through. Its not easy letting go - but you are right - somehow it makes it easier when some other woman is involved, but yet I don't know why that makes it so. You know they won't be happy together and you know they have an unhealthy unbalanced duo between them. Maybe he has to test the waters with her first to see if perhaps the feelings for YOU are real? In the meantime, there's a good book called "In the meantime", it talks about everything you and I have been going through with respect to 'progress' and different levels in achieving things we want and how we want them. The concept of this book is real different than most. Doesn't talk about 'abuse' but talks about what to do in the meantime while waiting for 'stuff.' Hope this helps. Wish we could talk or email each other sometime. We'd be intoxicated with Latte's!! Hugs, Sharon

Submit
Wednesday, August 01, 2001

Hi, Kala here My H has been on best behavior, no blatant abuse. All the passive aggressive stuff is still there. He has been writing down stuff about our interactions since October this has been a real surprise to me and has thrown me off balance. When I first became aware of it I was very angry, asked him why he was doing that but he refused to answer. I just couldn't let it go I think this brought out fear of rejection and abandonment issues in me. I have been trying to work through these issues, trying to sit with the feelings but I feel so frantic inside. I think I have lost all trust in him, I don't know where he's coming from. He has been playing these little games, I not sure why. His mom called me today and said she wanted to have a family picnic and she has talked to my H a few days ago, but he failed to mention it to me (withholding). He told her I wanted to go to the local jazz festival this weekend and wouldn't want to come the picnic, and that there was a special performer I wanted to see. All this is pure fabrication on his part except the fact that we had plans to attend. So his mom told him she would call me. He knows how in the past this would really provoke me and make me angry. So when she called me, I knew nothing about any of this, which I told his mom and also told her I would love to come to the picnic. I didn't let on that this had upset me at all. He is trying to provoke me so I will be angry and yell so he can say - LOOK who's abusing who. I have that knot in the pit of my stomach AGAIN. How do I respond? If I confront with the fact that he failed to tell me any of this and lied about the details, he will deny. Do I say nothing and give him a taste of his own medicine, I don't think so that would be acting out. I am not sure what do to, I guess just mention she called and they are having a picnic on Sunday. (and think what a jerk ) I am not going to let him engage me. Work calls, so that's all for now.

Submit
Wednesday, August 01, 2001

Hi, Kala here My H just came back to the office, he asked me if his mother called I said yes. He said, "OH I'M NOT ALLOWED TO HAVE THAT INFORMATION!" He had only been here less than a minute. Then he started telling me that I was getting mad and I was going to start yelling. I asked does it look or sound like I'm mad. He said no but you're about to. Amazing. He just needed to set me up to try and provoke me. When I didn't take the bait he got really angry. Left the building yelling and I could still hear him after he closed the door. This is my typical daily interaction with this man. Truly Dr.Jekyll / Mr. Hyde. This really wears me down and I waste so much energy with all stuff. That's why I am trying to find at least a part time job to get away from him at least some of the time. In case you all didn't know I work for my H. Thanks for listening.

Submit
Wednesday, August 01, 2001

Hi Cats, Norma made me laugh, Sharon made me laugh, Trubble REALLY made me laugh... Norma, so your husband gets PMS? That is sooo funny! why don't you let things go undone for awhile. I would get a housekeeper and make him pay at least half. And I also would set the kid straight right away!! No imitating Daddy in THIS house! Sharon, I've gone out with Peter Pan before too. This latest ex, if he is a Peter Pan, started when he was still really a boy because we started dating when he was 24. I believe that he didn't separate completely from his mommy, and that I was her. After reading the narcissism stuff, and thinking about the few things I do know about his childhood, I think there was a trauma or traumatic separation of some sort, with the bipolar, acting out older brother and then the arrival of a baby sister when my ex was 6 (brother was 10, right when he started to be a serious problem). My ex's mom is kind of weird. He said she liked me even though I am, well, older than 24. I could tell when I met her that it would not do to contradict her in any way and that to get along to let her call the shots. That is why she liked me! If I wore my hair a certain way, the next day she would wear HER hair the same way. This gave me the creeps. Like she was competing with me. Absolutely the first thing she said to me the first time I met her was that the older brother had been a real challenge and that my ex was the fun one. I thought that was very inappropriate for a first remark. Even more inappropriate was when she said she nursed my ex until he was *really* old, leaving me wondering if she had nursed him until he was 22 or something. She had a really weird look on her face when she said that, like the look someone has when they are making a sexual innuendo. Once when we were talking about taking a trip to Europe, he said he would want to bring the mom because she had never been there. I think I said, over my dead body or something. After we were more serious, he continued to terrify me by saying that when his mother got old, he wanted her to come and live with us. I made a mental note of that - put it down for a nasty future fight if he didn't rethink! Didn't engage at the time! wisely choosing the battle! So I think something is very weird about their relationship, always have. The other weird thing is that HER husband, HIS father, never comes home from work and when he is home doesn't talk. Withholding runs in the family. when she wants to go on vacation in a beautiful place in Florida, NO ONE including her own husband or my ex, will go with her. I could tell that my ex felt responsible for husbanding his own mother. So along I come, slipping into her place? So he could rage at me because he couldn't rage at her? Try to control me because he couldn't control her? Will I get lots of little cat paws for these observations? I coulda sworn that he broke up with his previous ex, though, because supposedly they broke up at least six months before we started dating. His mom didn't like her one bit. He talks about that ex in a very patronizing way: she's smart but she's only a grade school teacher, she has a weight problem but she has pretty hair, she played trumpet like him but didn't pass the auditions and had to drop out of the music program (he probably engineered it so that she never practiced!). He paints her as a loser who he cared about in spite of her 1000's of imperfections. He is probably talking about me the same way. Hah!! Let's see what he says when I get my Macarthur grant! Well, I was a little depressed before I dumped all this in the Box, so hey THANKS A LOT, Y'ALL!! I can't go sailing because we are about to have a nasty thunderstorm and they just blew the "get off the lake NOW" whistle. So I guess I will go stand in the rain and watch. I am addicted to thunderstorms. Trubble, between you and me, I was not sad that you didn't get the goldfish, although I am sorry you got wet. Yeah! It's just awful! Gurgle...

That must have been very unpleasant for you. But the fish are sacred to the Lake Deity and I am sure she didn't want you to eat them. (wet cats... hehehe) Ohhh, now I KNOW you are going to bite me! Grrrrr.....Ooops! Love, Storm Chasing Perdida (let me not chase any more storms in my love life...)

Submit
Wednesday, August 01, 2001

Dear Kala, Quit your job!! What a bad boss!!! Leaving aside that fact that he's the husband! Yuk, he is trying to provoke you. How crazy-making! If he was just making notes on your interactions, I would say that he gets to do that - I did that to help me figure out my relationship. Why don't you keep a journal yourself? It really helps. What also rally helped me was to tape a discussion with my ex (before he was exed). He of course refused to listen to it, but I had proof that I was the reasonable one. It was helpful to have him going into a rage and storming out on tape. But the rest of the stuff - Yuk, yuk, yuk! Try to get another job and don't work for him anymore. Your bad day never ends this way. I think Trubble ate my last post and I didn't save it. I had said some stuff about him falling in the fishpond that maybe he didn't think was funny... Love, Perdida I was so mad at you, I threw it up! Keep your dumb post and I hope you forget your umbrella the next time it rains!


Submit
Wednesday, August 01, 2001

Trubbbbbbbllllllllllle...... wheerrrrrrre's myyyy posts???? Depends on who you are. Am I mad at you?


Submit
Wednesday, August 01, 2001

I have to stop staring at Trubble falling into that pond... he never gets the fish and he never doesn't fall... Now do you understand why I'm frustrated?


Submit
Wednesday, August 01, 2001

Hey Sharon, I just reread the posts too - no I didn't "see" my ex with his ex (this is getting confusing) - it's actually just a concept. That he would let her drive across the country to visit him was something (according to him) that was absolutely not ever possibly in the cards. It was a big surprise to me that he let her do that. She wanted to come alone and he wouldn't let her. He made her come with a friend. Maybe this sounds hardnosed to the Cats, but from this I have *decided* (or faced the fact) that he never really ended it. And it's true! He didn't! When you end a relationship, you get the other person to STOP CALLING ALREADY!! or you don't answer the phone. I had heard him speak to her abusively with the veins popping out on his neck while I watched him on the phone with her, when she would call repeatedly in her persistently masochistic way all through our relationship. So I believed him when he said it was over and she was just being needy and sick. But, It didn't feel right to me when he said he "had" to talk to her when she called, otherwise she would keep calling and calling. I just tell someone like that to stop calling, end of story. You don't do the person any favors by letting them impinge on your life when you have moved on. As I said, I have a very different perspective now!! I was in a triangle! either that, or his narcissistic supply was cut off when I left and he needs her again. But apparently for him she isn't a good enough "trophy" to be a girlfriend, or that was the impression I got from what he has said. Yuk. They'll probably get married. Yuk, Perdida

Submit
Wednesday, August 01, 2001

Ugh, I'm *still* angry at my ex. I'm angry that he has acted in such a way that I don't trust or respect him. I'm angry that I don't get to enjoy him because his behavior prevents it. Thanks Trubble for letting me dump in your Catbox again. I think I will go watch Trubble fall into the pond some more. Love Perdida Gurgle... Gee thanks...


Submit
Wednesday, August 01, 2001

PS, paragraphs seem to run all together on the new server even if you put in indents... o Editor... I fixed it. Better "it" gets fixed than me.


Submit
Thursday, August 02, 2001

Hello. Jeannie is on vacation and we got this message on her message board. Does anyone know how to find out where a message came from? We haven't heard back from this person yet to tell us where she is. Here is the message...
"I stay up late till 3:30am trying to get to sleep and not have to worry about anything that can happen to me...Many times a week around 3 or 4am my dad will come in and sometimes with my mom....i can never sleep ever anymore. i live in pain i have to go though it... i don't have a home yet cause we are building, and i live with this other guy and his kids. No one knows about this no one that i know like my friends, teachers, and other family member. its very hard for me to write this now so its a big step for me. My mother hits me hard and my father does too...he rapes me and my mother helps him. It is very sick but i am working on getting help. he only does things when he is mad at me and to feel good. well i am going out of town with them for a weekend so i will see what will happen if anything does. thanks again for letting me join."
I assume this post is from Storm Shelter? It looks to me like a child who is crying out for help. I don't think you can do a lot apart from encourage her to ring social services or a children's helpline and let them take it from there. You could also look see if you can find urls to sites for children who are being abused. Also. keep talking to her. there isn't a lot else you can do unless you could find the computer address and I don't think that that will be possible until Jeannie is back. You could also encourage speaking to a teacher or friend- I hope that she is able to get some help. There really is nothing else you can do. It is important to do what you can but not feel responsible for what you cannot do. love Jay

Submit
Thursday, August 02, 2001

Hi! It's Nellie. Many thanks to Dr. Irene, Becky, LisaMM and Jay (hope I didn't miss anyone!) for responding to my latest post about being overwhelmed with anxiety. "Accept: It's OK to get attacked." Wow. I realize I definitely had not done this yet. I've been working on it and I do feel much better. The logical part of my brain knows that I can't control others, or the outcome of a situation, yet somewhere inside I still felt desperate to keep myself out of harm's way. So, I'm working on "letting go" of the *need* to have everything go smoothly and peacefully, and reminding myself that worrying about something does not prevent it from happening. As long as I stay calm, cool and reasonable, then they have absolutely no excuse to attack me at all. You know what Nellie? They have no excuse to attack you even if you don't stay calm. And it's not my fault if they do, it's their problem... Bingo! And I don't have to make it mine! :) Also - I'm so excited about a new book that I'm reading called, "Breaking the Grip of Dangerous Emotions" by Janet Maccaro. The main theme is about how stress and trauma depletes vital chemicals in the brain and how that can seriously affect one's health. She is a nutritionist and offers many recommendations for dietary supplements that can help to ease the symptoms of physical ailments like PTSD, panic attacks, lupus, fibromyalgia, and many more. I had already tried some of the things she recommends, and it did help tremendously! (She also shares quite a bit of her own Christian philosophy, so even though some may want to skip that part, there is still a wealth of information!) Making a trip to the health food store very soon... And accepting that it's OK if I get attacked while I am there... Wishing you all lots of good luck and good health. Take care. (Not So Nervous Anymore) Nellie

Submit
Thursday, August 02, 2001

Dear Norma, if I gave the impression I viewed your story like just 'a-husband-and wife-fight- about -the dishes, I am sorry. I am sure it is not. It never is in these kind of relationships. I can relate to this power struggle about who is the most sick/tired/in need of attention. C. and me used to have them all the time. It was never in the open that we wanted or needed things from each other, it was very passive aggressive on both sides: we felt we were entitled to attention and being cared for and when the other needed attention it was kind of scary I guess. What I have come to realize that, at least for me, to be open about what you need /want form your partner and give them an opportunity to choose, is one of the best ways to end these kind of power struggles. That is way I suggested this making-a-list routine. Of course, it may not work, but still it will help to get at least a part of what is going on clear and out in the open.
When you write "The point is that he won't allow there to be a time where he is more able to look after things than me, if he can help it." ... the key point is in the last five words. Your task is to see to it he cannot help it. To make clear that you expect certain things from him and to put consequences to it. So if he wants a clean house ( I guess he does, cause he is complaining when it is not), he will simply have to do his part. Now, he just gets what he want without much ado and the longer this has been going on, the more he will feel entitled to it and the less he will be willing to change his behaviour. The housework is just a small part, but it can help you get a better grip on things.
One other thing: you side commented that you took a part-time job cause you needed more time for yourself and that it turned out to be almost full time again. You might need to look into that too. There might be similarities in the way you behave on your job and at home that make you end up being the one to take on all the tasks, even though you do not want it..... "All my energy is wasted on trying to figure out what I do wrong or why he isn't happy. I realize now that it's not my problem." Whether he is happy or not is not your problem, at least it is not within your ability to fix. The fact that you waste so much energy on it, IS your problem and you can fix that one!!! Well, enough preaching. You will do what you need to do, when you need to do it without anyone telling you what it is. But sometimes it is just soooo hard to see the part we play ourselves. Take care, AJ
Dear Jay, thanks for your comments. I am by no means through this yet, but the experience did clear up a lot of rubbish. BTW how is your foot?? I hope it will be better soon. I had a therapy session yesterday and we talked about how hard it is to try and live together, in general, but of course especially when you have a history of faulty patterns. At the end I sort of sighed: what do you think, should I just throw him out and be through with it? She laughed and said, "No!!" You are learning so much. And I guess that is what is happening and as tiring as it is, I do appreciate that and lessons come like a bursting volcano, and I probably don't catch the all, but I do get a lot out of this. We were talking about how hard it is for me to go to my own room which I actually prepared before we were together again, just in case :-)) It almost feels like I am glued to my chair and I need his permission to get up. I makes me feel resentful, but it is my own doing. Excellent observations! She suggested I announce I would go and tell C. it was a hard thing. I just could not imagine myself doing that. Then yesterday evening, I just went, I did not announce anything, it felt silly to do so. I got up, opened the CatBox and read. After a little while he came up, kissed me goodnight and said he was going to bed. It felt great, there was no tension in it, no anger. Just, you do what you do and I do what I do. It's as easy as that. Giggle. Giggle! And it wastes no energy!
Hope Jake keeps thawing and you keep getting your own live. What about getting together again. Do you think Theressa could make it too? Theressa ??? It would be fun to meet. Love to all, take care. Hugs, AJ

Submit
Thursday, August 02, 2001

Hi Cats, Wow, what a concept: "It's okay to be attacked." Wow! Well, heck, it guess it IS! An attack would be about *them*, not me. I can use this, maybe even tomorrow! Argh, it's 4 am and I got more than I bargained for with my storm... It's been lightning and thundering since 6 yesterday afternoon and right over where I am living, very exciting but no possibility of sleep. Love, Perdida Don'cha wish ya were a cat? Teeheeheehee!


Submit
Thursday, August 02, 2001

Dear all, I am very confused here, posts keep popping up that weren't there before and then when I look again they are gone!!! I am going crazy??? If you are, it's mass psychosis since you're not complaining alone! Anyhow, I just read Perdida's post about her ex's mother and their relationship. Sounds familiar... Actually I know C's mother suckled him until he was 4, he is her darling too and I am sure he husbanded for her, though there is not even a hint of sexuality here. But I am quite certain his mother did use him as an emotional 'husband' since her real ones (both of them) were/are just totally unreliable and abusive. Difference is, I rather like her and we both have learned a lot about abuse, codependence and emotional abuse while talking these things through. I think she is healing too and it is great to do these things together. She helped me a lot, I'd like to think I am helping her. I may have set out as being C's mother, actually I am pretty sure of it, but I think he is in the process of separation with his real mother as much as with the mother-part of me. I'd like to think we can do it without further damage, though I am not quite sure. I try to not let his deteriorating relation with his mom influence mine. Mine has grown to be a different one over the last two years anyway: we share experiences and can point out each other dependent behaviours. I guess it's so much harder for her, living in Turkey, which has this really codependency-based society. Anyway, mothers do tend to pose a lot of challenges, don't they? I know I have to look into my relationship with my mother, but I am not ready yet. I just want her to not be there. Still big big buttons there. Ouchhh! Oh well, the time comes when the time will come. Love to all, AJ

Submit
Thursday, August 02, 2001

Good morning, "I am worthy of being happy, of having people love me the way I want to be loved, and of making my own choices about what happens to me. It's my life. Today I take it back". I am re-reading this over and over this morning as I prepare to meet my ex-abuser in court. Hopefully this will be the last time in a 9 month battle to get money owed to me. I am using my visualizations to help me stay calm, feel strong and not pass out!! I thought this was an excellent piece from Hazelton. Have a blessed day, Suzanne Hope it went well...

Submit
Thursday, August 02, 2001

Morning Everyone: AJ- no apologies necessary. I appreciate your insight. Your are right that I act the same way at work. I have a very domineering (female) boss and I have a difficult time asserting myself there as well. Last year she was reported for verbal abuse on at least two occasions. I have only worked there a year and being new I felt pretty vulnerable but I made it through. I started out working part time but was told that there could be extra hours. There turned out to be a lot of extra hours. I was ok with that because the hours followed my son's school hours. We have lost a full time person so I know when I go back after my holidays the expectation will be that I work more hours yet. This job pays well and is close to my home and my son's school so I was quite happy to get it but I did not want to work full time. Anyway I had already been thinking about this. Before reading this sight I don't think I would have had the nerve to say "no more" but I know I have the right and I know it's what I need/want to do.
I also talked to me husband about some of the things that I have been reading and that I knew that I had to change as well. He's well aware that he has moods and that from now on that I was not going to be asking him what was wrong. If he wants to be in a bad mood then it's up to him to figure out what's wrong. Good. His moods are his prerogative. Also I told him that I was not going to accept the blame for them anymore. Good! If he has something concrete that he wants to talk to me about then fine, but if its just a mood where everything we (my son and I) do is wrong then it's his problem.
I think his mother has a lot to do with his attitude. She's always been very jealous of her son's wives. I can tell by the things she says about brother-in-law's wife (they are now split) and the things she says to me. Right after we got married she kept commenting on how much weight he had lost and all the clothes that I bought him never fit properly and I was poisoning him with my cigarette smoke. Guess what: he smoked before I met him, he just didn't do it in front of her. She would tell me flat out that he needed extra sleep. You get the picture, I wasn't taking care good care of her baby. After we signed the papers to buy our house, he quit his job and then I found out I was pregnant. He wanted to go to school. I wanted him to get a job. His mother came over telling me to be patient and that school would be good for him. I can remember I was working full-time and I was sitting there eight months pregnant but it was still only what he needed. She's no help. I can remember having his family over for supper and his brother pipes up "She can to cook". My comment was "Who said I couldn't?" No answer. Yesterday she told my son "Your mother can cook when she wants to". There hasn't been a day go by that I haven't put decent meals on the table for my family. I don't tell her anything anymore because if I do she starts trying to get in the middle of everything. If its a problem she tries to solve it, if you admire something she wants to buy it yet she is hyper-critical. Nothing either of us do is right and she tells us. She has always tried to keep her sons depending on her. I guess she played the self sacrificing female and the expectation is that I should to. She was divorced and alone so she also did everything without the help of a man. I believe my husband truly believes that is what I should do. I've told him many times that I am not his mother (nor do I want to be). How do I convince my husband that he's an adult and not a child that needs to be cared for? You can't Norma. I guess that's the question. No wonder he never looked after our son. It's a child looking after a child. Perdida - I hope the storm blew over. All the best to all in the Catbox. Norma

Submit
Thursday, August 02, 2001

OK, my story is the same as most. I'm pretty sure I'm being verbally and emotionally abused. but my hub tells me that I'm full of bull; he isn't abusing me; i have a problem and i think everyone abuses me. After his "episodes" of rage and verbal outrage, he cries and begs me not to leave, saying he loves me and doesn't want to lose me. This is what makes it so hard for me to take action. He always makes me feel like it was my fault and he deserves another chance. Rephrase: You take on the blame he attempts to foist. He wants me to forgive and forget everything that's happened in 5 years of the hell of our marriage. It has not been good for a long time, but has escalated since May. He threatens to commit suicide if I leave. He attempted and failed twice and has not tried since July 4 when i called the ambulance after he "downed" (appeared to take the whole bottle of antidepressants, but spit them out when i dialed for the ambulance) a bottle of pills. After that the horrible insults started. silent treatment. telling me he hates me and that I'm so ignorant i should not open my mouth. But in less than 15 minutes he is crying and saying he loves me and doesn't want to lose me. this is killing me. because its hard for me to do anything when he is being nice and loving. I know I'm not strong enough to not blame myself, and not strong enough to get out. i dont know how to take action. i need to know how to just do it. LM Very manipulative... Does hubby suffer from BPD? If he does, unless he can pull it together, is it fair to you?

Submit
Thursday, August 02, 2001

LM Welcome, You are not full of bull, don't go there. Read the info on this site about the abuser and codependent. You also might want to read "The Verbally Abusive Relationship" By Patricia Evans. You can contact your local women's domestic violence center, I attend group sessions there, it really helps validate what been happening to me, and my feelings. Remember it all about power and control. Read the catbox and pay attention to the blue pencil response by Dr. Irene. Check out the list of books to read in the bookshelf. Remember there are allot of good women and men on this site that can help you. Hugs Kala

Submit
Thursday, August 02, 2001

Hi all, is this a sign of overload or of healing? I realised that the last thing I really want to think about is abuse just now... I kind of feel like my mind is so full of it that I want a break? If your body wants a break, you take a break! LOL- though given Theressa's experiences I don't think I want to leave the catbox...maybe just try a few days of 'normal' living, The house buyout will probably get completed next week so maybe I am feeling like the burdens are a little less heavy? No idea really what is going on really; but hey AJ, I really could get to visit with you sometime soon if all goes according to plan..... Actually I must be healing...I realised today I don't have need of therapy any longer. Might continue for a while with the counseling; but generally I feel like I am seeing the light at the end of the tunnel. Yippeeee! Will you be moving? I hope, love jay

Submit
Thursday, August 02, 2001

Hi Jay: Feeling a little overloaded myself. Trying to absorb all this new information has me a little boggled at times but then it's like some new correlation will click and it becomes clear again. I also now realize that this is not my first relationship where I have put up with abuse in a relationship. Thinking back to some of my boyfriends I know there were many times I should have said enough but instead I remained in the relationship trying to win their love. I wish I had maintained my dignity and they probably would have respected me more. I would have (or should have) respected myself more. Right before I found this sight I was desperately trying to find a way to not get drawn into dear hubby's little dramas but I couldn't do it. It's been happening lately 3 to 4 times a week. No matter what, I couldn't not get upset and eventually go crawling trying to solve the problem. I guess I just didn't have the proper perspective. I do think that these pouting or angry mood sessions have to do with him trying to punish me for not being the all giving, self sacrificing woman that his mom is. What do you think Dr. Irene? Good hypothesis. No matter what his reason is, it doesn't concern you. All you need concern yourself with is that is and it's unrealistic and not OK to expect your partner to be all-giving! Partnership is a two way street. The information available on this sight is the missing link that I have been looking for. I had some of it figured but I just couldn't quit put it all together. Love Norma

Submit
Thursday, August 02, 2001

Hi, I'm new to this board and have finally come to the realization that I'm being verbally abused. My husband rants and raves, has threatened me by saying if I divorce him I'll be left with nothing including our baby. When he is verbal he cusses at me including using the f word. He looks like someone else when he gets this way. He has even tried to control me with threats of suicide. We are finally in counseling, and the counselor has said that he probably needs to be on an anti-depressant and possibly may have a chemical imbalance. At least. I don't see how this could change such a behavior. It will help, but it won't fix the underlying issue. He isn't physically abusive but I don't stick up for myself and if I did I don't know what would happen. Do verbal abusers usually change?? I want to give him a chance but I'm scared that it's all in vain and the abuse might get worse. Signed, Withdrawn and Confused One thing's for sure: he won't change unless you insist on it.

Submit
Thursday, August 02, 2001

Nellie, Thanks for the book recommendation. I will definitely look for it! I had a massive attack a couple of days ago. I literally felt like the air had been knocked out of me. I reacted to my husband's bullying (he's been doing that a lot lately). I was able to calm down, but had to cancel an appointment because I was too shaky to drive, and was weak all day. My husband says (in his great wisdom) that panic attacks are "mental" and that I "want to have them!" I suggested he educate himself before making any assessments of my mental state! Glad to hear that you are doing better! Becky

Submit
Thursday, August 02, 2001

HI, I SUBMITTED THIS AT ANOTHER LOCATION......BUT HOPE THIS IS THE RIGHT PLACE NOW........ We just switched servers again; sorry for the hassles. I AM MARRIED TO AN ABUSER...COVERT FOR THE MOST PART...AND HIS ABUSE TOWARDS ME MIRRORS MY FAMILY'S BEHAVIOR TOWARDS ME...I AM CONSTANTLY CONFRONTED WITH SETTING BOUNDARIES....WHICH THEY HAVE NO CONCEPT OF...THEN...AS THEY INSULT AND ABUSE ME......I FIND MYSELF LOSING MY TEMPER....MY ANGER GOES OUT OF CONTROL....AND I CUSS, SCREAM, AND CRY THAT THEY CAN NOT TREAT ME THE WAY THEY DO...i.e. I BECOME ABUSIVE AND HATE MY SELF FOR THIS BEHAVIOR. I DO NOT KNOW WHICH IS WORSE...THE DENIAL IN THE PAST THAT THE ABUSE WAS PRESENT OR MY ANGER WHEN I RECOGNIZE THE ABUSE......I AM WORKING HARD ON HEALING AND NEED HELP/ADVISE ANY WORDS OF WISDOM FOR ME AND THANK YOU DR .IRENE ....YOUR SITE HAS GIVEN ME THE VOCABULARY TO DESCRIBE MY FEELINGS/EMOTIONS OF A LIFE TIME.............W.S. Hang in there WS.

.Submit
Friday, August 03, 2001

Steve here. Perdida wrote: "Men wouldn't abuse women in our culture if they didn't feel like they were entitled to. We have a lot of rights that we have fought for, but just like leaving an abuser who becomes more abusive - our rights have made us fair game for the patriarchy as it loses control over us." Ouch. I disagree big-time. I am a man and don't EVER feel like I am entitled to abuse anyone! Neither does any man I know. Rights have nothing to do with fair game and patriarchy. Besides, this isn't a patriarchy, not by a long stretch. It's a dictatorship hiding behind democratic rhetoric. If it has to be an archy, it's a matriarchy. Women get custody of children in almost 90pct of all custody cases before the courts. I stand by my knowledge that women abuse men just as much as men abuse women (perhaps even more). And women abuse women just as much as men abuse men. I have the stats to prove it if you are interested in letting go of the stuff that the University and Media gender "feminazis" are filling our silly heads with. No wonder men and women are fighting so much. They believe the garbage they're fed. Not many will find clarity if they cling to the victim mentality that man-hating forms of feminism have been promoting for years. http://www.sheridanhill.com/batteredmen.html http://www.naplesfl.net/~bestself/Family-Violence.htm Sorry Perdida, nothing personal at all but I just refuse to buy that stuff. I've done my research, heard the gender-feminist lies and watched society get whacked by them. I feel sorry for boys in today's North America. Very sorry. Don't get me going on this. I have had to deal way too much with the IMMENSE discrimination against men in our society. Family court is a joke. Now there is Matriarchy for you. :o Steve You know who "wins" in family court Steve? The more abusive of the pair...

Submit
Friday, August 03, 2001

Helloooo Irene... The Carriage returns are not working... Should I send Trubble over to fix it? Where are you anyway? Giggle!

Submit
Friday, August 03, 2001

If that first statement is true, Steve, we must also presume that women wouldn't abuse men in our culture if they didn't feel that they were entitled to. In that case it's strange that a woman who was famous for claiming that the status of women was so low must herself have felt such a colossal sense of entitlement. That oh-so-moderate feminist (by later standards), the founder of the National Organization for Women, that dear, lovable old grandmother, none other than Betty Friedan herself, was violently abusive to her husband, not just verbally but physically as well. Several classic features show up in this portrait of an abuser, including imagining that she herself was the "victim" and blaming her husband; acting after an attack as if "nothing had happened"; women's tendency to use weapons (knives, broken glass); why female domestic violence is underreported (men are too embarrassed); and why men stay in abusive marriages for twenty years or more (among other things, because they'll lose their children if they don't). It also reinforces an impression--I have no statistics or proof on this, only an impression I've gained from several men abused by women, including a couple on this site--that women's assaults are likely to be more sudden and unexpected than men's are. If it's a male abuser, I usually seem to hear that he "works himself up" into an attack: that any physical abuse is almost always immediately preceded by some verbal anger; that often he seems to be in a "bad mood" for a while beforehand; and sometimes even that a woman can feel "tension building up" for some days before. So at least the woman is likely to have some kind of warning in advance, even if it isn't much. In contrast, I hear more about women assaulting men quite unexpectedly and without any warning at all. Come to think of it, the infamous Lorena Bobbitt was another glaring example of that. She's a very violent woman; she was in trouble for assaulting her mother as well. It's clear that if an attack might come at any instant, the man must be in a constant state of tension and stress in case it happens--the husband here reports being afraid to go to sleep one night in case she killed him--which puts paid to Patricia Evans's claim that men somehow, magically, "do not live in the kind of fear women experience with an angry man." http://carlfriedan.com/insanity.html - Gordon Gordon, it's never about men vs. women... It's an individual by individual thing.

Submit
Friday, August 03, 2001

Hi Cats, Maybe Steve and Gordon should start a movement for abused men, to empower them to speak out. They're welcome to speak out right here! Obviously, abuse of men by women must be seriously underreported. I understand that men are "embarrassed" to speak out, and if that isn't a fine example of patriarchal thinking, I don't know what is! Stats I have read indicate that women are 90% more likely to be abused in a domestic situation than men are (Barnett et al, 1997). I really do think that might be considered to be an indicator of a serious gender trend, although of course others are entitled to their opinions. Maybe Dr. Irene has more comprehensive stats at her fingertips. No I don't. And the "data" is misleading unless you know how the sample was conducted and what it's comparable to. As far as the University goes, it certainly isn't a bastion of gender equality yet, although it tries very hard. Since academic work can be totally subjective and theory-based, male profs are in a position to make female students feel either smart or dumb, and I have seen them destroy the confidence of very bright women, whose work and careers are thus negatively impacted, on more occasions than I care to. I don't have stats on this phenomenon - just my personal experience like Steve's "every man I know" kind of stat. Abuse is wrong wherever it occurs. The wrongness of abuse has no gender. I think it's notable that most of the contributors to this site are women, each with nearly identical stories as if we have all dated the same partner. I think that that is a decent informal indicator of a pattern, although it's not the statistically significant thousand participants in a questionnaire that would convince the most exacting of researchers. If Steve and Gordon have references that are NOT websites, that would be very interesting. Regarding my post that provoked Steve and Gordon's responses, we were talking about Yoruba culture. Men in this culture have superior social status in every way. Although they have a strong tradition of working outside the home as shrewd traders, Yoruba women are expected to be submissive, especially in public, although they discuss everything with their husbands in private. Everyone is expected to get married and stay married to the same person. In this culture where women are under the patriarchal control of their husbands, ABUSE IS NOT PERMITTED AND IS SOCIALLY SANCTIONED to the point that the MAN, not the woman, becomes a social pariah if he mistreats his wife. Maybe it works in Yoruba land because the patriarchy has not been challenged like it has in the US. That is my point, and I believe it to be true. In places where patriarchy is still strong but is being challenged, like Latin America, domestic violence is a big problem. I think that men, who have historically NEVER been subjected to having been dominated, are not in a very good position AS A GROUP to relate to how it feels coming out from under social domination. I don't consider myself a feminist. I also don't consider myself a "feminazi" of course, because I love men and men love me. I do consider the term feminazi to be misogynistic and usually I hear it used by weak, conservative men who have problems with strong women. Perdida OK guys. let's go back to introspection. At least I can deal with that!

Submit
Friday, August 03, 2001

From the Sheridan Hill site, http://www.sheridanhill.com/batteredmen.html "Make absolutely no mistake," Vegh said. "Women/MEN can smoke dope, booze it up, throw a fist, wield a knife, use a gun, beat their spouse, and beat their kids. It is a type of violence that is ignored, condoned, and treated as frivolous by a justice system that survives by feeding on the one individual who is easily stereo-typed, lacks public sympathy, does not raise fear of reprisal in politicians, and often does not fight back." Vegh recently took a month-long sabbatical to the Arizona mountains, where he mused that the most important service he offers his clients is not legal advice, but simply to believe in them. To listen. "These men/WOMEN are victimized by their spouses and then ridiculed by a justice system that denies what has happened to them," he said. "They are stereotyped, labeled, and unheard by any authority. The human toll is staggering." I took the liberty of adding the other gender - I think you can read this selection both ways and it would be equally accurate. It's in the eye of the beholder. More importantly, if the justice system makes light of men's suffering AND doesn't take seriously charges of abuse by women, I think that that is the best example of patriarchal thinking that I have seen, and one that works very much AGAINST men. The problems of patriarchy are not invented by man-hating feminazis, who by the way are entitled to their opinions too. Steve and Gordon, why do you take personally commentary on a social issue? I think the point is to stop abuse and not rant about which gender abuses the most. That deflects attention and energy from the real issue. Perdida

Submit
Friday, August 03, 2001

Perdida, I don't take it personally. I just don't buy the lies. I see real life and I see research and both indicate that abuse is pretty close to 50/50. However, when it comes to family court, it's about 90/10 in the woman's favor. That's just a fact. Everyone knows it and there's no need to bore us with the stats. What bothers me most, is the "victim mentality" that is promoted so profusely in our society. I'm of the opinion that some of those shouting "I'm a victim" are probably perpetrators themselves. Perdida said "I think the point is to stop abuse and not rant about which gender abuses the most." Ah, yes. You say this now (after you've had your premises properly challenged), but did you not begin it Perdida, when you did appear to be in a victim role, and you were putting forth some flagrant gender myths? Now you would like us to stop what you started? There could be something in here for you to look at. I'm not preaching, just watching. If some women would agree to stop the mythology, I would certainly be relieved of my duty to rebuff the lies and false premises that are being constantly shoved down our throats... I think male-bashing does a great disservice to both men and women. It continues adding distortions to the false reality that is already the bane of our awareness goals. Steve

Submit
Friday, August 03, 2001

I can't get into the catbox! If anyone sees this post please could they let me know on Bravenet so I know I am not totally nuts! Thanks. Jay (Dr Irene says there are a zillion posts I cannot see!) (Including this one!) Giggle!

Submit
Friday, August 03, 2001

Jay, I see your post....

Submit
Friday, August 03, 2001

I knew it! If I posted the above I would then be able to see the posts.. Trubble must be playing practical jokes today! jay AuntieJay, it's obvious you need glasses. Don't you worry your pretty little head. I'm coming right over; I made some for you.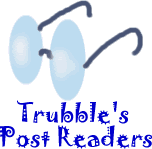 Submit
Friday, August 03, 2001

I feel like I don't know which way is up today. Yesterday was such a bad day. My husband was home and well, he wreaks havoc on everyone it seems when he is home. I'm quite overwhelmed right now. I am upset and angry and feel like just sitting here and crying. He seems to reprimand my daughter (his step-daughter) for some of the same things he does. It's hard for me to understand how he cannot see how he has so many double standards. He's infamous for leaving his stuff lying around and we end up bumping it, knocking it over, etc. because it is in the way. We get told that if we were more careful these things would not get knocked over and stuff but when we leave something out and he steps on it, bumps it, etc. we get told that it shouldn't be there....hmmmm...I have to tell you it takes allot for me to hold back from just going off on him for stuff like that. Yesterday I asked him if he wanted to go on an outing with us and he declined by saying that he had to work the next day and didn't want to be out late. Later that evening before we were leaving his friend called and they were talking about dinner and movies. I was quite upset and let him know that since he had told me he didn't want to go anywhere when I asked him earlier. He added another reason claiming that he did not want to go with my daughter because she may ask for things (at an amusement park) and get attitude if she's told no. This was news to me since he had not told me that when I originally asked him to go. He ended up turning the situation around on me claiming that I didn't want him doing something without me with one of his friends and it's not normal for married people to make such issue of each other doing things independently....WHAT!?!?!?! This was totally absurd to me but I realized quite fast that there was no reasoning with this man and that I just needed to leave at that point. I didn't enjoy my evening because I was so saddened by yet another situation that just seems to play out over and over again. In therapy he makes me out to be insecure, with low self esteem, dependant on him, etc. Pretty ugly picture that I don't think I live up to and neither do my friends and family. We have an anniversary on Sunday and I feel like he's already taking steps to sabotage it. He made a big scene this morning with my daughter (asking her to do something and she resisted) and I just know that he's going to escalate this whole situation before the weekends end. How do I prevent this? Or can I? I know being a step parent is tough but sometimes I think he antagonizes her. Yes, she gets attitude and needs to be punished for it but I feel like there is reasonable and unreasonable consequences for things. My husband seems to hand out pretty stiff punishment when he's in a bad mood and let her off the hook when he is in a good mood. He doesn't see this though!!! He discounts what I say about this unless I can give him dates, situations and everything to back it up. It's just nuts! I'm completely and totally frustrated right now. I swear I live with Jekyll and Hyde! Julie

Submit
Friday, August 03, 2001

Perdida said: "I think that men, who have historically NEVER been subjected to having been dominated, are not in a very good position AS A GROUP to relate to how it feels coming out from under social domination." - I disagree Perdida. Men have been dominated for centuries. I don't recall any women having to go kill children and babies in Vietnam, or any other wars, and die in pools of blood and guts. This is more myth-making... When you get right down to the truth, you find that both men and women were "in their roles" for a long time. The difference I see is that women complain about their roles, and men don't. Men, for some dumb reason (could be due to female propaganda and domination), seem to think it's their duty to die for their women. I mean really, "women and children first..." on the Titanic? That is true domination. Female over male. "Will you die for me please sir?" said the woman to the man, in not those exact words. No, those myths of male domination are easily dispelled by a whiff of facts... If anyone's been (and still is) dominating, it's females. Now that men are waking up, I think the matriarchy is getting a little disconcerted. Probably their biggest fear is that men will behave as they did, using "victim" warfare and myth-making. People use people, men use women, women use men, countries use countries... "All are Punished" - Prince, to the Montague and Capulet families, in Romeo and Juliet (after Tibalt was killed in a clan fight). Steve

Submit
Friday, August 03, 2001

Steve - Why is it female "domination" to let the women and children go first? Is it not a logical way to assure the survival of the human race as a whole? Women need to survive for at least nine months to have a baby. It is just a biological fact. Men can impregnate several women, then can go off to battle because they are still physically strong and able. And even of they do die (which I am *not* advocating!) then they have still been able to do their part to perpetuate the species. What's wrong with that? Nellie

Submit
Friday, August 03, 2001

Steve, Stop accusing me of starting "something" whatever that is. I don't see myself as a victim. If you do, that's YOUR stuff. I disagree with quite a bit of what you say. That's my prerogative. I am now choosing to disengage, and you can call that whatever you want. Ta-da, Perdida

Submit
Friday, August 03, 2001

Oh no! now Trubble has hidden the posts again! Trubble is real uncomfortable with the discussion; wouldn't be surprised if he's kicking up some trubble about now... Trubble I just saw a picture of you in our local supermarket- at least the resemblance is striking... Have you left home again as this cat was claiming to be lost. Giggle. I have had (honestly) a single glass of wine and I feel all fuzzy. I was going to write to Gordon and Steve about abusive men...I think the way to settle the whole thing is to create a poll somewhere on one of those internet poll things...actually I have one but I didn't specify sex..so far 50% of the people answering were violent towards their spouse at some time..but only 25 people have posted and I do not know what the half person did...I do however find that frightening. -that of 25 random people half of them admitted being violent. I sometimes wonder if it is worse when we are young and then it gets better as we mature and learn.. i think I better find a coffee...LOL one glass.......this is not fair.

Submit
Friday, August 03, 2001

Perdida - Well, heck yeah! It is! Good luck to you! *** Becky - Hope the book helps for you. Wishing you the best. *** Suzanne - You go girl! *** Asha - Sending you a big hug today. *** Nellie

Submit
Friday, August 03, 2001

Perdida - When I said, "Well, heck yeah! It is! Good luck to you!" I was referring to your post where you said "Wow, what a concept: "It's okay to be attacked." Wow! Well, heck, it guess it IS! An attack would be about *them*, not me." Just wanted to clarify! Take care. Nellie

Submit
Friday, August 03, 2001

Nellie. Yes, it may be logical if you want the species to continue. However, it still could be thought of as domination. Consider this, homosexuality is illogical and will destroy the human race if taken to it's conclusion. Yet, would any of us say to a homosexual on the Titanic "sorry, you're last..." If we did, I believe the homos may be accurate in believing they have been "dominated" by the heteros. There's nothing wrong with what you say Nellie. I cannot judge it to be right or wrong for a man to die and a woman should live - in order for the species to survive. (or a homo to die and a hetero live). However, it does seem a little bit unfair if you are the one being sent to kill innocents in Vietnam, and you watch your friends being blown up while they're eating a sandwich, and then you come home to a country of women who consider you expendable, AND, constantly berate you for dominating them for years, centuries. Sexual expendability doesn't mean you are therefore undominatable. It just means nobody cares if you are dominated. Steve

Submit
Friday, August 03, 2001

Perdida, as the portion I cut from your post demonstrated, you were engaging in, what I consider, myth-making; promoting the falsehood that this shadowy fearful Patriarchy has been dominating women for years. I am simply pointing out that it is a good example of the "victim" mentality, which I believe is damaging to both men and women, primarily because it is a lie (that many believe to be true). You said "I think the point is to stop abuse and not rant about which gender abuses the most." I simply pointed out that you started it. And you did. And that's your stuff. Perdida: "Stats I have read indicate that women are 90% more likely to be abused in a domestic situation than men are (Barnett et al, 1997)." Hogwash. Shame on Barnett et al...did you get that off a "website"? Stats Canada reported domestic abuse to be just about equal. That report came out this year. It's available on the Government of Canada website. Something all of us have known intuitively but few will admit publicly. Steve

Submit
Friday, August 03, 2001

Dr. Irene, I didn't realize how I sounded when I was chiming in regarding Yoruba Men.....I agree with you that it is a two way street regarding the Yoruba Men. I was just being silly. Me too... I don't want to get into social issues here... I have to remember though at all times how I sound it can be my own bitterness or hostility seeping out. I believe both partners need to accept responsibility for their actions. I am opening up to a new perspective that there is no abuse if there is no victim. I have noticed my mother and some family members have been just ready to jump all over the "blame bandwagon" regarding my husband's abusive and controlling behaviors. I have to remind them that he is just utilizing his defense mechanisms and is a victim from his childhood. True, but spend your energy on defending you. I guess they don't trust my ability to "know what's best for me and my children" due to my recent denial. Frankly, neither do I. It takes a while to learn how to do this stuff, but you're learning! Some are not so willing to be "open" about this perspective. I tell them, however, I will take the necessary steps to protect myself, and learn how to stop the cycle. I want out of this "victim hood" immediately. I can't stand another minute. I really don't like feeling powerless. I am stronger than I was a few months ago but I still have a lot to learn. I think since I am still "waking up" to the abuse. I may be tempted to make generalizations. I am going to listen to myself and challenge those assumptions. I wanted to let you know you got me thinking about that. I have seen the shoe on the other foot in many marriages where the wife is the abuser or controlling. Oh, that victim rage stuff really had me worried for a while myself. I can tell you all that with my new found emotions came the need to learn impulse control skills. I am even I am still learning how to use my intuition and assessing character. I would like to utilize what I have learned to be able to develop a relationship of mutual respect. My therapist had told me that "You have never really left home." I started realizing how I have developed certain perceptions based on my limited experience with men. The men in my life have either abandoned, abused, or were addicts. I have to tell you I would not even know what a healthy relationship looks like. I can't even imagine jumping into another relationship right now. There are times when I joke that I am going to another country or go hunting for a "nice guy". I really love those Australian accents :) I am hoping one day that I won't need to even need to. LisaMM

Submit
Friday, August 03, 2001

Gordon, I agree, Patricia Evans is out to lunch. She's never heard of the term "impartial". I think the problem is, people like her start with a premise, and then seek out anything that will support it - being absolutely sure to ignore anything that doesn't. This is where the term "feminazi" was born. Most (not all) women who are afraid of that term, are usually aware of their own culpability in condoning the methods. Oops, the Stats Can study was in 2000. Here it is: http://www.fact.on.ca/Info/dom/stat2000.pdf And a few more pages - http://www.csulb.edu/~mfiebert/assault.htm http://www.fact.on.ca/Info/dom/george94.htm http://www.fact.on.ca/Info/dom/ama_batt.htm Hey Gordon. You go boy! Steve There is truth to what you say Steve. The reason the cognitive behaviorists discount her stuff is for that very reason. It's all put on the identified abuser, but it takes two to tango.

Submit
Friday, August 03, 2001

LisaMM: I have been reading your posts. You are VERY in tune. It took me months to get where you are. Thanks for your contributions. I really look forward to your common sense and deep thoughts. I have learned from you. Once, I had a really long reply to one of your excellent posts ready, and Trubble pounded it back with some whiskey. I wish I had more time to spend here...Steve

Submit
Friday, August 03, 2001

Steve and Gordon, Thank you both for sharing your perspective. I am learning a lot from what each of you are saying. My perspective is clouded at the moment. After being on the receiving end of abuse I am prone to make assumptions or generalizations. I really am trying to keep my victim rage in check. I am absolutely furious. I can tell you I was completely oblivious to this "power over" theory or "one up, one down" position. I always assumed that was only in politics or the business world. I had this belief that "You be nice, people be nice to you." So, I coming out of this shelter shock of mine. I don't even hear how I sound. I just wanted to share that I am starting to hear myself. It's really hard for me to trust men at all since I was abused at age 5 years. My mother never trusted men. I did not like how she made assumptions and generalization she says that "it's all she has ever seen." I guess that because it all depends on where you are looking and to whom you are looking at....I can see there is very genuinely loving men that want mutual respect. I am trying to learn the ropes myself in what this entails. I am hoping to find that balance of being able to identify those that can harm me and those that I can engage in mutual respect. As I become more focused on myself and empowering myself I am less prone to worry about whether or not it's "men or women" that are abusive. I believe we all should empower one another so that the world is a better place. LisaMM

Submit
Friday, August 03, 2001

Hi: I'm new to the cbox, but have been reading Dr. I for a long while and finding it lifesaving (as I live with a "horror of a human being"). I am in the infancy stages of trying to plan for leaving my husband. And finally facing into being a grown-up, and the incredible aloneness (big A) of taking responsibility for myself and my children. No more rationalizations, no more denial, etc., etc.. I have finally had enough (turned 40, put up with too much for too long -- same old, same old). Nothing earth-shattering to say, except it's good to see I'm not so alone. Jo

Submit
Friday, August 03, 2001

Hi Steve, I hate to mention this but my husband "complained" all the time about having to take responsibility for his family or having to work. He never went to war....I don't believe he would have been strong enough to die for his country now. I actually heard him say "I am entitled". I was shocked to actually hear him deny the abuse me and insinuate that I deserved it. Oh, it was chilling. I had a "sleeping with the enemy" moment I will never forget. I certainly don't want to be stranded on a sinking ship with him. Now I understand my husband has a personality disorder or has a distorted view at the moment. I take his comments with a grain of salt now a days. I know he may "feel" this way. I think he may truly want to be told he is "worthy" or "appreciated". I don't even know if his sense of entitlement is the same as "most" men or "most" women that are abusive. He does have this sense of entitlement that makes me feel like I am in some sort of competition that I did not sign up for. I believe his view was limited by how he was raised with his mother being submissive. I was reading a website that empowered women just last night. I don't agree with how some feminist websites have gone overboard in "male bashing". I do however find some of them to be validating that "victim" in me. I believe it is left to the reader to take what you want and leave the rest. It is all what you do with that information. I would not use it to excuse or rationalize extreme revenge towards men or my husband. I believe this would diminish my integrity. It's bizarre I know you can never truly know how someone will behave until the moment a crisis occurs. I have seen so many people pull together during a real crisis. It's never the people I expected. I think all the information available is overwhelming and confusing. I don't even know where to begin comparing stats. I am amazed to find that some of the stats provided are usually backed by certain special interest groups or corporate sponsors. I don't know about the domestic violence stats myself. Plus there are so many people that do not report the abuse. LisaMM

Submit
Friday, August 03, 2001

Perdida, you refer to this catbox website as some sort of example that, because it's female dominated, it could mean that more females are abused than males (correct me if my extrapolation is wrong there). Later, in the same post, you ask Gordon and I to come up with some evidence that "isn't a website" and then you'll consider it...do you see anything wrong with this picture? Giggle...I hope I'm not engaging you too much. This is all just brainstorming for me. I think we can have a healthy debate and chuckle and snort, and still be ok with each other. I believe it's a good thing to bring our hard-held beliefs under the scrutiny of another's microscope. I really think LisaMM has it clear. The sooner we give up being victims, the sooner we can be empowered. Steve Go boy go!

Submit
Friday, August 03, 2001

Wow! Quite a bit of litter flying! The only thing I will say is there are no victims, just volunteers. Giggle! Congratulations Jo on "growing up". It's a painful process, but so much better than denying, rationalizing and justifying. LisaMM, I agree with so much you are saying, but I'm no longer in a place where I can say my STBX is only utilizing his defense mechanisms and is a victim of his childhood. All I see is he had choices to unstuff whatever it was from his childhood, but refuses to go there! I am no longer willing to accept what he put, and still attempts to put me and his children through as justification for his bad behavior. I can't name too many people that didn't go through something in their childhood, be it a parent with an alcohol/abuse problem, illness, sibling who was ill, cold, inattentive or controlling parents, the list goes on and on....The bottom line is everyone has the power to break the cycle! Lots of people do, and then there are others who refuse to even admit there is a problem.
Today was not a good day. The kitten we had gotten several weeks ago developed a virus and had to be put down today. :( The poor thing was in such pain...lots of tears shed in this household today. It's not fair both of my teenagers said. So true...however, I did manage to find one shining thought in the whole situation. No, it isn't fair I told them. But, one of the kitten's siblings was stillborn. While we didn't have him in our lives as long as we would have liked, he had a good life. He was loved, he was playful and content, and even mischievous! He had a good life even though it was short, and the last day painful.
Guess that's the attitude I've tried to keep about my 20 year marriage coming to an end. There were good things, but the last 5 years were painful. Now...I need to vent, so please bear with me. Tonight, my STBX called, as I left a message asking what time he was coming to get some more of his things. He told me he was coming, but going away for the weekend. I politely told him that he doesn't have to give me details (emotional pull), but can simply let me know he can't make it. I tell him about the kitten, and how upset our daughter is. "Ce la vie" was his response. It was just a kitten. YUCK!! Starts in on why doesn't she call him to talk (well...duh? My thought-listen to the response I got!) Then he starts again...the whole denial thing. I listened without saying a word, then finally said if this conversation is to continue, "I suggest you change the topic." Nope. My response, "this conversation is over-click". Tries to call back, but I let it ring and took it off the hook for an hour. Last message left says: I guess YOU really can't talk about the truth (lies) because it really hurts. YOU have an issue with it. Sent YOU an e-mail, hope YOU like it. Threatens to go after alimony from me... Hope YOU'RE happy with YOUR life cause YOU destroyed a perfect marriage of 20 years. Hope YOU'RE happy with it and hope YOU realize what YOU get. And I hope YOU can get up in the morning, look YOURSELF in the mirror and say I lied about my husband....of course, no mention of anything he did in his drunken rage. Says he's thinking of suing me over the RO!! Here is the subject for the e-mail he sent from a popular website: A Poem for friendship - from A heart that is broken. Okay cats...my gut says not to open it so he doesn't get a reaction. Feedback please.... I'm really tired of this and wonder if it will ever end? I know it's HIS STUFF, but being this is coming out of the mouth of someone I loved, and whose opinion and approval I used to value so much, it HURTS! Maybe it's just the kitten thing, and then this whole harassing, denial and lack of compassion on his part. Never mind one day at a time. Today is one hour or minute at a time.... Majorly bumming right now... L The violins are playing. This is a manipulation. You are supposed to argue with him, try to change his mind. Don't, unless you want to stay stuck. The reality is that he sees things as he sees them and he wants you to try and convince him otherwise, though, of course, he won't let you. You can participate, or let him play the game alone. It's a no win game.

Submit
Friday, August 03, 2001

Catbox--Had a "brain burp" and went out to the website to find the card without opening the e-mail (as I'm sure there's more...). Here is what it says: "Friends from the start, when everything was new. Friends through the hard part of growing-up we got through. Friends through the middle parts: the good and the bad. Friends through the happy times. Friends through the sad. So wherever you go: here, there or wherever... know that you've got a place in my heart – friends from the start: friends forever." Author - Ashley I need objective thoughts please...How can someone leave such a nasty mean message minutes after sending this??? L Easy. They did. Stop asking why/how he did and ask yourself if you want to put up with this stuff.

Submit
Friday, August 03, 2001

Hi L, Can your program let you block email just from your husband? I think the Yahoo accounts do. Why don't you try to do that. I think you're in a place where you could just hit "delete" when you see his return address. (I also think you're in a place where you could read it and blow it off! Congratulations!) Hey LisaMM, I Dub Thee: Madame "Not A Victim Anymore!!!". You get to decide when that's over and it looks like you did! Love, Perdida

Submit
Friday, August 03, 2001

Hi again L, He's suffering (don't buy into it); he's trying to manipulate you (don't fall for it); he may actually be remorseful under all that stuff (let him clear the stuff out with a skip loader if that's the heavy machinery I am seeking). He sounds just like my ex with the Lucinda Williams CD. Hit <delete>... Love, Perdida

Submit
Friday, August 03, 2001

Steve here ---- LisaMM. I've never seen you participate in some of the male-bashing that occasionally blesses this board. I understand a lot of what you say. I have been abused, and I have been abusive. I've got some bad programming to get rid of. I'm making progress. When it comes to abuse, I'm just irritated by those radical gender-feminists (as opposed to females who want true equality) who, in order to be MORE than equal, are crying wolf and painting men as abusers and women as victims. I'm sick of it. Steve, why are you focusing on this group? It is so damaging to the male-female relationships of this world. If a woman IS abusive, how is she ever going to get help if the environment tells her she is NOT abusive? Men go to anger-management workshops and the like quite often but will women? I'm going to quote something from a radio program I heard some months back. A professor at a Canadian College was "chased" from his post because he taught men's studies. He was interviewed on a radio station, after which the phone lines where opened to the public. I taped the show, and then transcribed it. It was a shocker. I just want to quote something from a male caller which illustrates what I agree is going on... ++++++++++++++++++++++++++ "I feel like a second-class citizen in my own country now, because of the things I've been involved with over the last 6 years, fighting courts, fighting governments about this feminist agenda that's out there. I go out 2 or 3 times a week for wings, to listen to some music or bands or whatever, and I find that even when you go to the pub, there's an entrenched, it's like a line in the middle there, there's the men and there's the women. And the men, the ones that I talk to, I can honestly say, and there's lots of them, they're totally fed up! They're fed up with the women out there, they don't even want to ask anybody to dance, they don't even want to talk to women anymore, because they feel - that they're just getting shafted." I talk to a lot of men, and there truly IS this feeling out there. It's real. It comes from somewhere. Many places. It concerns me. What concerns me is how powerless you and some of your friends apparently feel. I think the radical gender-feminists have gained such a foothold in our institutions, resisting any dissention or open debate, EVEN at Universities, those great bastions of free speech (laughable), that we (men and women of common sense) have a huge job to repair the damage they have done to male-female relationships, families and society at large. I realize many women in the Catbox DO come from abusive situations. I empathize with them. I can only repeat Irene's oft-said, rarely-heard refrain...work on yourSelf first. Stop being a victim and empower yourSelf instead. The thought strikes me though... How many of the women here have considered that they too, may be abusive toward others? Let him/her who is without sin, cast the first stone... Steve, YOU are the one walking around feeling disempowered. You are victimizing yourSelf. And, you are in good company; many men feel likewise. Please stop giving more of your power away by placing the "blame" for the situation on society, feminism, etc., etc. That keeps you powerless since there is nothing you can do about feminism, society, "feminazis" or whatever. You want power? Each and every time you feel someone, anyone has stepped on your toe (male or female), ask them if they meant to... By calling attention to your boundaries, you set them.
Ps: You know the women you have a hard time with? The ones who agree with each other and empower each other to blame men in general? Well, when you yak with your buddies about feeling shafted in this society, aren't you doing the same thing? I'm anticipating your reply: "But I really got shafted in court." Yes. But how much of that shafting in court and with your ex can be a function of your inability to calmly care for your own space, and look bad in the process?
And one more thing...men and women ARE different. I have about 10 times as much testosterone as most of you. You have more estrogen. Both of these hormones affect us in ways we aren't even aware of yet. But, we should rejoice in our differences, our diversity. I have a sex drive that is beyond my control. It is a function of evolution, genetics and biology. I am not going to feel bad about it anymore. It is me. I am driven by my instincts, and to deny it is to deny my maleness. I will rejoice in my maleness. I will NOT feel bad about it ever again. The days of feeling guilty for wanting physical intimacy are over... Whew...what a spouting forth...please excuse my verbal avalanche. Steve By all means Steve, DO NOT feel badly over being a guy! Your job is simply to figure out how you are going to handle that drive when your partner does not share it.

Submit
Friday, August 03, 2001

Hi Perdida, I could definitely block his e-mail, but this card came through a website and it's from "a heart that is broken", not his true e-mail. I am also familiar with the site, and when someone opens the card, the sender will automatically be e-mailed that it was opened. Not going to open it, as that alone would be providing a reaction from me. You'd never there was any remorse from the nasty gram he left on the answering machine minutes after the e-mail came through. Oh well...HIS STUFF. I'm am choosing right now to not let it be mine. Feeling better than I was a few hours ago. I'll chalk it up to a bad day. Like I said, this kitten thing was a real heartbreaker. Thanks for the great advice and support. L


Submit
Friday, August 03, 2001

Norma, I got goose bumps reading your post from Weds Aug 1st. My husband does the same things. If I am sick; he is sicker. When I was pregnant; he had sympathy pains. My husband ran up our credit line to purchase all kinds of stuff for his car. He wanted a PT Cruiser, Bayliner, House in Nevada, etc. More and MORE STUFF. Nothing ever made him happy. I was aware he purchased luxury items on impulse, so I listened to my gut and refused to sign any loans. OK! I felt like he was trying to bury me in debt. I use to like nice things too. I had a difficult time saying "no" until we had kids. I just knew if something went medically wrong with any of us in the family then we would be financially strapped. I always found a way save, budget, sacrificed, and stayed home. He was one of those who would go out and buy $2000 pool table then tell me to only buy 4 apples, and don't buy underwear until next week. I got fed up with that since I worked from 5:30 am til 6:30 pm watching kids for money, and then 6:30 - 8:30 watched our kids alone took them to their activities. I did all the daily care, cooking, and cleaning but got told I did nothing all day. I never had time for myself. Even when he was home on the weekends he sat around drinking beer, and ignoring me. Unless he needed to show somebody what a great guy he was! Ugh....I am on a roll....Then, when it was his turn to watch the kids. He would start a "important" project. I would worry about his temper and fret. Oh, if I left then the second I came back I was told "YOU were gone ALL DAY". You know shopping at Wal-Mart my big trip out! Oh, and when I cleaned the house! He use to make sure to make the backyard muddy then let the dogs in the house to run around! Grrr! Okay, I am venting AGAIN! I just remembered all this stuff. I need to print this out so incase I ever doubt myself ;) Oh, BTW you may as well stop and put your feet up. It doesn't matter what you do.....IT'S YOUR FAULT! Take Care Norma! LisaMM My rephrase: while IT'S not YOUR FAULT, it is your responsibility to deal with it... (and even though you may feel as though you can't, you can learn how to...) Notice, this is exactly the same thing I just said to Steve...

Submit
Saturday, August 04, 2001

"Paragraphing is also a matter of the eye. A reader will address himself more readily to his task if he sees from the start that he will have breathing-spaces from time to time than if what is before him looks like a marathon course."--Sir Ernest Gowers, in Fowler's "Dictionary of Modern English Usage." Being unable to make paragraph breaks is therefore a handicap, which among other things can make anyone's post look like "one long rant" when that was never the way they intended it. I trust that everyone here will be forgiven for what was not their fault. Please bear with us. Don't worry about paragraphs...

Submit
Saturday, August 04, 2001

Steve, I don't mind your avalanche. I can understand where you are coming from. Like you said (or something similar, I am afraid to go back and peek. I just lost a post too! For the record, I'm looking into other types of onsite boards that won't have this problem. Now to figure out how to install the things.... argggg!) the Catbox is a great place to share our perspectives. I always enjoy watching a good debate. I always learn something new. I find that our "buttons" pop at certain comments. It challenges us to look inside to see "why" that is. I don't really like what I see sometimes......In my life I was looking for that strong man to come swooping me up to rescue me or to protect me.....from yikes.....do I dare say it....MySELF. Giggle!
I just handed that power over and really have no one to blame but mySELF. Especially with all this new awareness.....comes responsibility. Yes... I feel the guilties right now because I had certain beliefs that I was going to "do the right thing" and stay home to raise my children. I worked hard at staying at home. I made it my challenge to make it work. I felt contempt at times from some women I worked with as though I was breaking some rule of not "having it all". I had to over come my ego to let go of this "image" of perfection. The first thing I did was dump the designer clothes and accessories. Turned in the fancy car. Stopped shopping in expensive malls and eating out. It was pony tails and no make up for 8 years. Now, I have to go back out to real world without a fully developed Self. I feel like a sitting duck. (Now, Perdida did grant me Madame "victim no more" I need to keep a hold of that title). I have to go to work; like many women I will have to work to be self-sufficient. I will place my children in daycare hoping I have given them enough love to not "act out" resentment for me abandoning them during their childhood. Stop! You gave them what you could, and maybe they will act out and maybe they won't. If they do, you'll deal with it... I hear so much guilt from and blame towards working mothers. I would feel guilty either way because if I stay home then I am not providing them money to keep up their standard of living. I'm questioning why you allow yourself to feel guilty at all...
I feel powerless in that I will be blamed for anything my child does because "I worked and put them in daycare". Who cares about what others think. I'm more concerned about how you are thinking: that you're between a rock and a hard place where you've no choice but to "pay" for not being able to be the parent you want to be. This model does not allow for the fact that "life happens!" I for the first time know exactly how single mom's feel. You are damned if you do and damned if you don't. Only if you care about what others think and you take too much responsibility... No matter what my kids do or not do politically correct stuff dictates that I will be blamed. Okay, I give. I will accept that, and let go of what I can not control. Hey, I do know I will have the comfort of knowing that "I am doing the best I can." I won't be provoked in "defending my position" so much this time around. Yay! You're certainly working on it, but please notice how much over-responsibility and caring about what others' think have been/ are still in your way...
That was a button with my mom friends. I would be at the park, and that question...."So do you work or stay at home" came up. OH, "Stay at Home Dad" Big Points in the sandbox for that one. I really do have a lot of respect for men that can overcome the pressures to stay home with their kids. As a stay at home mom. My husband wasn't home raising the kids. He was at work ALL THE TIME. It's not his fault they behave that way. "Your home with them all day!" Oh, and to be fair....He had his good moments. He was sitting in the Kindergarten class one day cutting and making kites with the kids. I have pictures of him helping in my son's classroom. That was before the alcoholism kicked in. He did have his moments where he wanted to be the best father he could be. He just put too much pressure on himself and my son at times to be perfect. Again, we all do the "best we can" considering. Women and men all keep it balanced it out. Accepting "status quo" is just not in our human nature. We seem to challenge and grow stronger over the generations. Sometimes we grieve for "the good old days". Growth and change are inevitable. It's finding balance so one side does not feel oppressed or burdened with guilt when it all goes wrong. I believe that most people sincerely want mutual respect but just are not equipped with the skills to maintain it over the long haul. Too much of anything is just not good for us. We are all creatures of habit, and have instincts towards our female or male tendencies. I certainly can not relate to certain things that men do. However, I respect it. I can't help but think of that movie "Bedazzled" with Elizabeth Hurley and Brandon Frazier (it's on video now) where that guy kept getting all his wishes "to be sensitive" or "to be strong and powerful" so that this girl would like him but ended up living with the consequences! It was hilarious. Don't ask for it, you might just get it came to mind. LisaMM

Submit
Saturday, August 04, 2001

Dear L, I am sorry to hear about your kitty. Keep in mind your husband's response was just his inability to cope with your feelings. I have never understood those kind of responses from my husband either. It seems he could have a little more compassion. I agree with what you said about responsibility in spite of what happened in their childhood. My mom and my aunt have expressed that same opinion. I even shared I was molested but that I did not go out hurting children or molesting. I do admit that I am not "perfect". I "acted out" in self-destructive ways that actually would have affected my children emotionally in the long run had I not wanted to change. I realized my behaviors. In fact, any time anyone tells me I am behaving inappropriately. I self-correct.
I did not realize that "no clear boundaries" hurts too. I did not intentionally set out to hurt anyone. I just learned about boundaries this last year. I was not raised with boundaries as a child. That explains it but now that I know it, I will not excuse my inability to self-correct. I guess it helps me understand, but does not excuse his behavior at all. It helps me see it's not my fault like he "thinks" it is. I am not taking it sooo personal. GOOD! However, I slip and become deeply saddened at certain things he does or says. I feel like it's sad because he must be hurting pretty deep inside to need to do the things he does to feel powerful. I am definitely detaching more and more each day. As I do this my boundaries and bottom lines are becoming more clear to ME. My biggest problem is accepting the covert manipulating behavior that has to be done consciously. There is no way my husband can not realize he is behaving inappropriately when he "plays games" to control or "win". Don't go here. Not helpful... It doesn't matter....It won't work now that I have caught on. Exactly. L, I could relate to those kind of messages you received on your answer machine. It's this certain tone they use accentuating the "YOU". As soon as I hear it I just know he is trying to reel me in. "Don't Bite"!!!! Oh, I typed this earlier but lost it when I hit my browser's backspace to peek at a post again. I can pat myself on the back tonight. My husband stopped by for some "verbal warfare". I participated in it a little but stopped when I caught on to being provoked. Atleast I am getting better at it. He attempted to guilt and shame me for signing his children up for free lunches at school. He says "Your not a displaced housewife; that means homeless or on welfare." He actually had the nerve to tell me spousal support was "welfare". I can't even remember the rest of it because I was letting it in one ear and out the other. I corrected him, don't defend/explain! and said that "I am displaced due to divorce and being out of work for 8 years from staying at home with the children. I just happen to qualify for all kinds of programs. I don't have the qualifications or updated work skills to be self-sufficient. I am in school and working towards becoming self-sufficient." He taunted me with his narcissistic laughing and mockery. That's why you don't defend/ explain...
Oh, this makes my me shudder. I am assuming he does this to upset me and make me doubt myself. Don't assume. Doesn't matter; just don't fall into your self doubt trap. I did get upset because I heard myself explaining.....I stopped! :) He is freaking about this lunch program. I am not worried about anything but making sure my kids are taken care of. They don't even know. They have these credit cards that all look the same. No special tags, etc. Then, I just said calmly, "I am doing the best I can." He says, "It's not good enough for me anymore." I said, "That's not my fault, that's your problem now." I will not let him shame me into believing I don't deserve assistance in becoming self-sufficient. He refused to give me money to pay for my updates. I will be self-sufficient in 6 months once my certificates are updated. I felt he was just undermining my confidence. He even tried to play the "you just want to be a victim" card. I told him to "hold up a mirror". He is the one acting as though he is suffering due to me changing. I am not his victim. I am accepting responsibility.
Again, even though I did participate in the "verbal" game. I was not over-reacting this time. I stayed focused on just not taking it personal. Next, time I will try not to even respond with any explanations. My children's therapist was teasing me. I was updating her on what was going on at home with the children. I told her I was establishing boundaries and setting limits. I told her "Boy, setting limits and boundaries is tough. No matter what he does he turns it around says it's my fault." She teases, "Well, Lisa YOU CHANGED"! She is also going to help me pull in those Mom Buttons. I am hearing it, and learning not to respond. I just can't understand how he can be so worried about a lunch card but not their emotional well-being? Pointless question, I know. Yep. A waste of your energy. Oh, I know.....I can hear it now...."Don't go there!" You're good! Again, when I sort this out I want to understand it. I don't want to excuse it. It just helps me understand so I can step back and see if for what it is.....I am starting to accept that there are some things I may never understand. Yes... But, I'll throw you another paradox: You'll be in a better position to understand once you really don't care why... That's okay :) LisaMM

Submit
Saturday, August 04, 2001

Hey LisaMM, You are doing GREAT. Way to go to work the system! I like the school lunch idea! I think you should not feel one single shred of guilt for getting any and all public, private, or alien assistance that you can! Dig out those little-known programs! Your husband is trying to make you feel guilty because HE is the one that made this necessary. He is projecting and blame shifting. It sounds like you are dealing with him in a strong and dignified way. Keep it up! (Do you HAVE to talk to him at all?) I didn't see anything odd in the way you responded about Yoruba men. They're like all men - some are cute and funny! Some do housework! Keeping a good home, acquiring wealth and producing handsome, well behaved children are three of the paramount values in the culture. Especially the part about having and caring for children: children represent wealth so if your kids are loved, cared for, well-dressed and well-behaved (NOT spoiled), you're thought of as successful. There are a lot of things about that culture that I would like to incorporate into my life. I think it's important to distinguish between a critique of a *system* or issues centered around a few individuals, and the all-out slandering of an entire gender. I don't think that came through in yesterday's kerfluffle. L, will you get another kitten? That's so sad when the little things go. It might not be a bad idea to get another one in a week or so after you all feel a little better. Love, Perdida

Submit
Saturday, August 04, 2001

Hi Cats: LisaMM - Sounds like your husband is afraid that you will do just fine without him. I think that he will do everything he can to undermine your confidence. I admire how strange you are able to be when you are under attack. You are right that my husband will blame me no matter what. I can remember him telling me that I needed to quit smoking and I was actually taking it until I noticed that he had a lit cigarette in his hand at the time. This type of person will not play a fair game so I have to learn not to seek validation from them. I won't get it. Sorry to hear about your kitty. I hope you keep posting because I have learned so much from you, Theresa, Perdida and L and all the others. Gonna put my feet up today and enjoy. Love Norma

Submit
Saturday, August 04, 2001

Dear Catbox, LisaMM, Perdida, Thanks for your kind words. I guess we all have a tendency to get "reeled in". Old habits are hard to break, but not impossible. Fortunately, I didn't give him too much response and remained calm on the phone. I cried afterwards and felt a bit wounded, but decided he can only hurt me if I let him, so I made a choice to let it go. Bingo! I will never understand all of the "whys". This whole threatening to go after ME for alimony thing was such a contradiction of him telling me for so many years that my working outside of the home was far less of a contribution to the family than whatever he did. I have maintained steady employment for 14 years, while his job history was 3 years max in one place. I never cared that I made more money most of the time, because it all went into the same account and benefited all of us. I was not perfect either, and went through the material phase of "keeping up with the Joneses". I think it's something most people go through temporarily, and hopefully realize there are far more important things in life. My working gave him the ability to go back to school, start a business, etc. I was always able to work, have quality time with kids and him (when he decided to be home), and be involved with their extracurricular activities. I have always strived for balance to grow myself and children as well-rounded individuals. I also did the same for him, and looking back (temporarily), I now see that I put his growth ahead of my own the majority of the time. I am not angry, but realize that was my choice for reasons I am now coming to understand. I always believed being supportive is something one should do in a relationship, but it shouldn't be one-sided. I see the fruits of my labor in the relationship I have with my kids and what wonderful young adults they are (or still becoming), but feel sadness that my STBX doesn't seem to realize how much got accomplished when we worked together. Our children have better emotional boundaries, are giving, funny, and have compassion and empathy. I think both my STBX and I were raised in strict households, I from a single-parent household, him both parents. I really feel the reason I evolved from Reality 1 to Reality 2 was that my Mom was extremely supportive of my growth, be it participating in sports, music, etc..She didn't just rule with an iron fist, but with love. The only confusing factor was her alcoholic/physically/emotionally abusive boyfriend. I hated the way he treated her and couldn't understand how she put up with it. Maybe what has happened in my life has helped me to understand some of the choices she made. My STBX would always throw my "screwed up" childhood in my face, but I know while he had both parents, he never had much encouragement, and really seemed to resent my encouragement of our children, because somehow it took something away from him! I never told them, or him what they had to participate in, but always encouraged they find something they have an interest in, and learn more about it. STBX has plenty of choices, but chooses not to make them. Now he wants me to pay him while he shrugs off the responsibility of having one minor child. I just said, "fine, we'll let the court decide". I didn't bite openly on that one, but will admit I was floored how someone who minimized my contribution is now willing to use it to his own personal advantage. Like my counselor told me, I wasn't raising 2 children, but 3. He still doesn't want to let that go and is really angry I'm not taking care of him anymore. I am struggling to help our son with his college tuition, and still have the task of school shopping for our daughter. I am not stressing like I used to over money. It's just not worth it. This was a conscious decision I made years ago. There are far more important things in life, and somehow, we always get through the financial stuff. LisaMM, utilize the programs because that's what they are for, and unlike years ago, they are totally anonymous so the kids aren't stigmatized. You sound like you have a great head on your shoulders, and between that and school, it will do you a lot of good in the business world. You will get through it because you have your priorities straight. Perdida, I think we'll wait on getting another kitten right now because we don't want to get one and possibly have it get the virus, which could still be active in the house (for cats only). We are going to make a scrapbook of pictures, and I just got a call from the vet that his ashes are ready. I asked the kids to think of a beautiful place where we can spread them. My son did ask if we could keep some too, and I said "of course". I guess we are all in shock of how something so young, cute and vibrant until the last 2 days of his life could get so sick and be in so much pain. My oldest surprising took it really hard, telling me last night that he hopes there is a heaven and that he'll get to see him again. We all missed him running under our feet this morning, and even our dog senses something is "weird". When stuff like this happens, it's just a reminder of how fragile life really is. Rather than have the visual of the kitten in pain at the vet, (he didn't even look the same—it was so awful), we talked about what we did get to enjoy with our short time with him, like how he hopped like a rabbit, climbed up the curtains, played with the dog, and even watched the clothes in the washer (front loader) spin around and tried to "bat" at them. I think Trubble would have liked him immensely! Have a good day everyone! L Trubble is upset over the kitten. But, he is happy for you. He says you're "on track!"

Submit
Saturday, August 04, 2001

Giggle, I have nothing to say unless this post goes through! i don't believe nobody else posted since I did...Trubble please get some trout! jay Well? Aren't ya gonna send me some?


Submit
Saturday, August 04, 2001

Sorry LisaMM and L. Got mixed up about who had the poor kitty. Have a sick dog today. Deciding on whether to call the vet on off hours. He's drooling up a storm but otherwise seems pretty good. Probably bit a bug that bit back. Say that 3 times. Love Norma

Submit
Saturday, August 04, 2001

Hi Catbox, Okay, Trubble.....I can handle not having the paragraph breaks but what is going on with the post's stretched 2 feet wide across the screen? I am taking the horizontal scroll bar going back and forth to read. It's making me dizzy! Trubble can we fix this? I would be willing to bake up one of your delicious salmon cakes today ;) LisaMM

Submit
Saturday, August 04, 2001

hi my name is Arif Ali Khan Soomro 21/years old, height 5'11, i just want to merry because i further can not control my sex and can't adopt any wrong way to satisfy lust, here in our society it is tradition boys can not merry through proper way till he has suitable job, and this bad culture. i therefore want to merry. you can also see my pic on www.facelink.com/a84623 www.facelink.com/arif120 if any body wants merry me just contact me at below address. arif44155@yahoo.com This is too funny for words! And that's why I'm leaving it in. Good luck to you Arif! I think you should really concentrate on getting a good job though...

Submit
Saturday, August 04, 2001

Hi Catbox, I am reading Gary Zukov's "The Seat of the Soul ".....I found my answer regarding forgiveness that I have been searching for. Here's a section I read that I would like to share for those in advanced recovery: "Forgiveness means that you do not carry the baggage of an experience. When you chose not to forgive, the experience that you do not forgive sticks with you. When you choose not to forgive, it is like agreeing to wear dark, gruesome sunglasses that distort everything, and it is you who are forced everyday to look at Life through those contaminated lenses because you have chosen to keep them. You wish everyone else to see the world that way because, it is indeed the world that you are looking at, but it is only you who sees it. You are looking through the lenses of your own contaminated love. Forgiveness means that you do not hold others responsible for your experiences. If you do not hold yourself accountable for what you experience, you will hold someone else accountable, and if you are not satisfied with what you experience, you will seek to change it by manipulating that person. Complaining, for example, is exactly that dynamic of wanting someone to be responsible for what you experience, and to fix things for you. (OH, I see myself right there! Ouchhh! *Deep breathe* I know this is good for me! ) I will paraphrase, and shorten the rest: Complaining is a form of manipulation. You can move past this by moving to the next step which is perception and sharing. Ask yourself when you are sharing this perception "What is my intention in sharing this? Amy I looking for a particular response? When you assume responsibility for your experience and share what you experience in a spirit of companionship, that is the same as forgiveness. When you hold someone responsible for what you experience, you lose your power. When you hold someone responsible for your well-being, you live continually in fear that they will not deliver. How can you forgive another person for the fact that you have chosen to step out of your power?
Okay, Lisa here! I am copying this and reading it over and over until it sinks into my thick skull today! That is my positive affirmation homework today. I do this everyday. It helps me to soak it all in. I could go on and on about how wonderful this book is. Wow! I am able to see my experience from another angle rather than as a "victim". Oh, I finished "The Dance of Intimacy " by Harriet Goldhor Lerner, Ph.D. This was very helpful in developing my bottom line and understanding relationship triangles. It has some great advice about the challenge of change. I do not want anyone that is being verbally attacked or physically abused to think that the above mention information regarding forgiveness and authentic power is in anyway saying that abuse is our fault. This is something completely different. When your abusers choose to obtain power by dominance and control, then they are seeking external power over. This is something that can help you understand before you are put in this position or after you have removed yourself from abuse. I am trying to avoid ever getting back into another relationship with someone that has not intention of creating a mutual respect relationship. I am using this information for my personal growth and awareness. I was stuck on forgiving my abusers. I said it but I did not feel a sense of relief. I was not truly forgiving and letting go. You are only able to protect yourself by removing yourself from the situation at first. I found it difficult to see things clearly while my husband was still living in my home. My husband claimed to be "healed" with a few months of therapy. From what I see by his actions is that he "thinks" he has "conned" his therapist into believing he is the victim and I am just "crazy" or trying to control him. I trust his therapist enough to know he sees it. I was setting limits and boundaries. I was not trying to control him, however, after he left I tried manipulating him into understanding. He never had any intention of understanding. Now, that I know this as Dr. Irene says many times my only sane choice is to accept it, learn from it, and "let go" of that which hurts or causes anger to work on myself. I need to stop trying to change him into seeing things my way. Okay, I know I have been saying this over and over for weeks! My therapist says if he ever "gets it" it will not be from anything I say. It will be because what he is doing is not working any longer for him. I am only giving away my power as I stand there trying to convince him, manipulate, etc. What a waste of energy! This information from Gary Zukav's book helped me understand this internal conflict I had with myself that caused me to want to go back and "fix" my abuser. I swear I was being pulled by an invisible force or "spell"! Again, this was a lesson I had to learn until I get it right. Now I can move forward in my growth. My therapist is on vacation this next week. I would like to know how to "stop thinking" so much. I am finding other ways to release energy. Keep myself busy doing productive things around the house. My classes keep me busy for 4 hours. The kids keep me busy after school. I have even considered putting a note on my computer that says 30 minutes today on the computer and that's it! I am listening to up beat music while I walk so I don't think about my husband's behavior. I am trying to find better ways to use my energy. I want to be free of all this negative energy. Any one else like to share what you do to obtain positive energy or "lighten up"? Thanks again for listening :) LisaMM

Submit
Saturday, August 04, 2001

LOL my posts went through but I couldn't see them. I am at a lost to know why. Now all the posts have spread themselves out sideways so reading takes forever. Ah well....It seems like there is litter flying with the men saying women are abusive and the women saying men are abusive. I think the bottom line is anybody can be. I don't think it is a gender thing so much as the result of background, upbringing, personal circumstances and heredity. However that said men are physically stronger which is why more women get hurt, I think...who cares, abuse is abuse wherever it happens and we forget that the victim turns abuser so it is sometimes hard to see what is going on....all I know at the moment is I have a friend d whose husband bit himself and called the police on her and she ended up in jail for the night. yet he was the one who hit her on several occasions= once from the behind. the last time I saw her she was worrying he would come after her with a car jack... So my sympathies lie with women because of circumstances and we should not forget that sometimes partners deliberately wind the other up until they lash out... Oh who cares which sex it is. better to look at each case individually and get it sorted. It should not be anyone had to be afraid of speaking out and getting help if their partner is violent... I do think though that it is repeated violence that is the problem...I suspect that most couples have the occasional fight...out local DV unit say that a wife/husband throwing the odd dish is not what they classify as abuse....they worry when they think one or other partner could end up really hurt or dead. meanwhile this is nice. he still isn't communicating but Jake is in the same room for the evening and yet a little more communication from him today...I don't NEED him like this but it is pleasanter when there is no Vibes. I wish I could read the posts but it is too difficult the way they are spread out so I will try again tomorrow...love, Jay

Submit
Saturday, August 04, 2001

Anybody know of a good abuse therapist in the West Los Angeles Area??

Submit
Saturday, August 04, 2001

On Wednesday someone posted a copy of a post received over at Jeannie's site and asked what if anything could be done. With the exception of Jay, this post was totally ignored. How self absorbed you all are!! This poor girl is handicapped and being abused physically by both her father AND her mother and not one of you, could spare some space in your treacle to offer some advice? What kind of a site is this anyway? One that respects each individual's freedom of choice. I thought it was a site where people could turn where they needed help, but obviously I was wrong. Using your criteria, yes. I hope that none of you are even in the situation that this girl is in with nowhere to turn. I hope that if you do find yourselves in a situation as horrible as this poor child that someone does take the time to give a damn and reach out of their own world to help. You all should be ashamed of yourselves. If you want to help, do so. It's fine to make a request of others, but trying to guilt others into action is not a technique I support. Nor is the CatBox about jumping on any type of bandwagons, even help ones.

Submit
Saturday, August 04, 2001

Hi Doc, I would hesitate to discount Evans' book because it helped me identify what was going on in my relationship, even though I have turned to other methods like CBT to change myself as a result. I'm not discounting her book at all; I am telling you how it is regarded by others in the field. It's also my criticism, despite the book being the best description of abuse I've seen anywhere. I also think the book is useful for a man who is being abused by a woman - he would have to change the gender in his mind as he reads. But I agree that her book doesn't have a happy ending - by that I mean, she doesn't try to engage the abuser or offer suggestions for him or her to make changes, should he or she be receptive to that. So for me it was a sad book because I couldn't really share it with my ex and have him come away with healthy empowering ideas for himself (if he was even open to that which is a big "if"). So it helped me a lot - a good first step. Tell Trubble I'm sorry he didn't like the discussion. I didn't either and I was trying to get in the pond with him but I only have a laptop so I didn't quite fit. I don't share his aversion to getting wet! Love Perdida

Submit
Sunday, August 05, 2001

This is really weird...I know I saw all the posts last night and now I can only get to Wednesday again.. yet the posts I posted when I could only see to Wednesday before got through...LOL I am stuck in a time warp! My guess is that this post will show up and everyone but me can see it.....! jay Are you refreshing your browser? Did you put on Trubble's glasses?

Submit
Sunday, August 05, 2001

I did not respond to the post regarding the disabled girl being abused by her parents because I am not qualified to help in this kind of situation. I was not sure if this post was real or not. I have never been over to Jeannie's website but is there another person who can step in when she's not available to make referrals or redirect those that are in crisis? I would not rely on websites for immediate crisis intervention. If this girl needs immediate attention she can call a local crisis hotline to get a referral for immediate intervention and speak to a counselor on the spot. LisaMM

Submit
Sunday, August 05, 2001

Jay, I agree with what you said about partner's winding each other up until one or the other lashes out. I am guilty of this myself. I did not intentionally set out to "set him off". It was the only way I knew to communicate. I was hearing him blame me, and I was tossing the blame right back. I learned this from my parents. Infact, there are members in my family that are still holding onto resentments and blaming the other person for their misery 30 years after something has happened. I can see now how this was not working. I was learning how to set boundaries. My husband took this as trying to control him. When I tried to explain it just made the situation worse. I can see now why our therapists recommended we separate until we have developed communication and coping skills. I am starting to realize that I don't have the skills to engage into a healthy interaction. I have not let go of my own baggage. I still have to work on my own assumptions and beliefs. I can see how they limit my perspective. LisaMM

Submit
Sunday, August 05, 2001

LOL Now I can see all the posts and I WAS refreshing my browser all the time I couldn't see! Now I have Trubbles glasses and I can spend the evening reading the posts. Thank you Trubble they are very unusual glasses and seem to make the fish in my pond clearer...oh no ....yet more Babylon 5..I have to go..this family is addicted to it! jay

Submit
Sunday, August 05, 2001

I am finding the Stormshelter post a bit odd. What I don't understand is why if the site is for the abused there is not relevant information on it to access? As it is I suspect after I had answered that post there was little to add- after all it was not the girl herself posting. If she had posted here then I am sure there would have been more replies. But I guess it was a sense of caring that prompted putting tha post here. It is hard but there really IS nothing you can do until the person will let you know how to contact them. Yopu just can't so often do a lot..the only thing I was able to do for my friend whose husband bit himself and claimed to the police she did it , was to tell them she had told me this.. I was relieved they noted it for future reference...the bottom line is tha until anyone seeks help for themselves little can be sone unless they are a minor. That is just it though- unless you yourself want help then you don't get it.. Ypu have to be at the point where you are willing to take it.. TodaynInhave been working out it In culd stand another 45 years of how things are..no I could not. But I will give it to the end of the year to see if there are any changes and review it then, AJ - I think Theressa is on holiday but it would be great if we could all meet up- I think I will have to go as I am trying to write to someone on the MSN messenger at the same time...do any of the catbox cats have this.?jay

Submit
Sunday, August 05, 2001

Hi Lisa MM, I felt like responding to the guilt-trip-laying anonymous person too and was trying not to engage since I have had my share of engaging on the Catbox for the time being! But since you've opened up, let me come out and support you - we all got that post, but none of us could respond directly to the person and help her even if we wanted to because she hadn't written to this site! I suppose we could have run over to the other website to respond - but why does this person expect us to be the rescuers? The original post was asking us to hack into Jeannie's website to get the person's address. No one can do that! It isn't legal. Jay had the only appropriate response: to wait for Jeannie, end of story. Even if we had answered, our posts would not have gone to the person in need anyway. I reacted with frustration because it was a sad situation and there wasn't anything that anyone could do without more information from the sufferer. So much for guilt. Have a nice day, Perdida

Submit
Sunday, August 05, 2001

Hi fellow catbox dwellers! I don't really have a question as much as an observation. I've mentioned on this site this great guy I've met and spent some time with (JS). I've just spent a week with him and I see a couple of red flags which indicate to me that I'm not looking at a happy relationship down the road... But, as I'm newly on the road to recovery, I thought I'd ask for a bit of input. We get along great for the most part, but then an issue came up over toilet paper that astounded me. He has a septic tank (and I understand the implications of that) and after I'd been staying with him for three days, the roll in his bathroom ran out. I requested more and was met with complete astonishment. He asked me how in the world we had used up an entire roll in only three days, and was it really "gone"? I replied with a YES, it really is, and I now need MORE!. After thinking this over, I felt accused and even though I did feel that, I kept my mouth shut. Then he started to lecture the entire household about it, and I explained that (as a female) I don't "drip dry" and that would tend to use more than usual. I asked to accept the blame and then I tried to explain that it would take me and my kids some time to get used to "less of a good thing". This sort of thing occurred over and over during the week we stayed together and I guess this pushes a trigger with me whereby my ex used to stand in front of us all and demand that the guilty party step forward. We were all petrified and no one would utter a word for fear we would be chastised. So no one admitted a single thing to JS the whole time we spent with him. I finally stepped up and told him I didn't appreciate the stinginess, and that if he couldn't afford it, I'd be happy to buy the necessary supplies myself. In any case, this happened over and over in various forms the whole week we stayed there. I have HUGE red flags flashing in front of my face and am NOT happy with what I see as a "potential" future in my mind. I left and am now home, what to do? I don't really feel at ALL comfortable with this situation... Thanks Guys, Jeannie

Submit
Sunday, August 05, 2001

LisaMM, Sounds like a book I need to pick up, so thanks for the recommendation. I have been reading a lot about forgiveness too, but even the book I'm reading, "Spiritual Divorce" by Debbie Ford has a line like you mentioned "Forgiveness means that you do not hold others responsible for your experiences". This is the one thing I am having a tough time with. I forgive my STBX, because clearly he doesn't seem to have a grasp on reality, or consequences for his actions, etc.. I accept responsibility for my faults (as we're all human), but also know I have always worked hard to better myself and grow as a person, to have a good relationship with my family, friends, co-workers, etc. and have open communication. My STBX can quote every self-help book ever written. Problem is, he didn't apply it to his personal life. Only "Mr. Positive attitude" with the outside world (Jekyll). This is where I hold him responsible for my experience and our children's experience. I'm not going to get into every situation that has occurred in the last 5 years, but he is responsible for his arrest, doing nothing to work on his issues and heal the relationships that were damaged by the behavior. The way I feel about it is, I did not choose this "experience". Trusting, believing, letting things be "water under the bridge", keeping myself in the situation just because things would be good for a while...those were MY choices in the experience. And MY choices did affect my children's experience, as I am an adult, and made the decision to allow him back each time. Our children also placed their belief and trust in their father when he said that it wouldn't happen again, etc..They feel their father is totally responsible for his behavior and it has affected their experience in the world because he didn't follow through. I see how my choices are responsible for their experience, how can he get off not having the same responsibility? That doesn't mean I don't forgive him. I don't know....maybe I'm just reading the statement too literally...I believe you can forgive and still see they had their responsibility in the experience, and you in yours. L

Submit
Sunday, August 05, 2001

Becky checking in-- First, to Jeannie: I would have felt very uncomfortable, too! I remember being so on edge in the early months of my marriage, because he would do similar things: he called me into the kitchen and pointed out 2 spoons that had stuck togther in the dishwasher, he counted the number of glasses the boys and I used, and lectured me about serving the boys juice in regular size glasses. He was upset that my son washed his hands in the kitchen sink (yet a week later, my H was washing his shoes there)and who replaced the toilet paper roll was another issue for him. If you and your kids felt uneasy and intimidated, listen to that. Secondly, I've read both Patricia Evan's books and have trouble understanding some of the objections to them. I know this has been discussed in other forums before, and probably in early catbox days as well, but I still don't quite understand. Is the problem that she doesn't go more deeply into codependency? It's been awhile since I've read them, but I don't remember a lot being written about that. I do believe her two realities theory; at least it seems to me that my husband is definately not hearing and seeing the same things I am, or at least not interpreting them in the same way, and he is convinced his reality is correct, despite evidence that it is not. I believe that Dr. Irene has said that if abusers could help themselves,or realized what they were doing, they wouldn't do it. (Sorry, Doc. if I'm wrong, please set me straight). I tend to disagree. I think many, if not most, times my husband knows full well what he's doing, and he could help it if he wanted to badly enough! And I TELL him what he says/does hurts. He won't believe me, or maybe he doesn't care. Back to Evans.... I do know that some object to her speaking of "male" abusers and "female" victims, but if you go to her verbal abuse website you will see a test for possible abusers that is geared for either men or women. And I think all of us here agree that abusers come in both sexes, and many shapes, colors and sizes. LisaMM, I'm not sure I'd want to be on a sinking boat with my husband either! I know I'd give him my place in the lifeboat; right now, I'm so devastated and have so little sense of security with him, that I'm not sure what he'd do. Actually, he'd probably put me on the boat (acting heroic, of course) then resent and blame me as he sank! Hope everyone had a decent weekend. Back to work in a few weeks for me. Did not get the fulltime position I applied for; they weren't able to interview me by the date I requested. (I needed to give 3 weeks notice to my current employers). But they want to keep my application on file, so who knows. I'm trying to stay upbeat; after all, I know of some who have no work at all. Take care, everyone. Oh, Trubble, we have some frozen salmon patties we don't like. I don't suppose you'd eat them? (Sorry! Just thought I'd ask)!! Becky

Submit
Sunday, August 05, 2001

Hello everyone, My name is JoJo, I've been here for a quite a while. I'm too shy, in denial this is really my life, etc I guess to talk about my "stuff" out in the open - yet. I think the biggest hold back is that I would be facing it 100% both consciously and unconsciously. Boy what a mess I've made of my life. I have seen a family counseling psychologist, about 8 times. Initially with my husband, but after the second session, I asked that we be seen separately. This counselor doesn't get the idea of all the dynamics in a verbally, emotionally, mentally, a couple of times physically, abusive marriage. The suggestions he makes should work in a "normal" marriage, but he doesn't understand how different an abusive marriage is from a normal marriage that is just having trouble. After reading here, the second time I showed him my bruises, I think he should have said leave. Instead, he keeps saying how much he likes my husband, and how he knows we can make it. He has helped me with personal development and self esteem, but it's time to find someone who is aware of what goes on in the classic abusive relationship. The only things he has said outright are 1) My husband is "text book" narcissistic 2) Passive aggressive 3) Telling him "She is not your mother" - in relation to his acting out toward me and excuse making for his behavior. 4)Told him the biggest mistake he is making in our marriage is not allowing me to love him. 5)That I am codependent, 6)and need to work on suppressed anger and forgiveness 7) and that I am too concrete in my way of thinking. He keeps pointing out I should realize my husband is actually a hurting, very scared, little boy inside and he says over and over - "You should look at him and feel sorry for him". The last time I saw him, I told him every time he says that now I get angry. I said, "You keep telling me I'm supposed to feel sorry for him - who feels sorry for me having to live like this???" (Yes, I know I don't HAVE to live with him, but we are married) In the beginning when the counselor said this, I just felt guilty because I couldn't find it in myself to look at him when he was acting and feel sorry for him, I was hurt and mad! I came to counseling because I couldn't take living the way we were any longer. So, longer story shorter, I am living with, in my opinion, a passive aggressive, narcissistic, misogynistic, megalomaniac. Lord only knows what words fit me?! I chose him! My husband declares regularly to me that I am abusive and he is a victim. He is a victim of me, his family, his boss, the bank, and so on... As everyone here knows, living in these bonds hurts very, very much. After we relocate across country with his job, I will be returning to the workforce and, I imagine, leaving him. Scary thought, but the thought of staying is slowly becoming scarier. I wanted to post just to say Dr. Irene, and the people here, have been my lifeline for so long without knowing it. I wanted to say thank you for the help, encouragement, and what feels like a lifeline many times. I come here several times a week. When I'm at the breaking point with my husband, this place is like spinach is to Popeye. It helps, comforts, and encourages me when I'm at my lowest. It teaches, strengthens, and helps me grow the other times. Your appreciative, but shy, catbox member... JoJo P.S. Dr. Irene, your ask the Doc Board has been of so much help in my particular situation lately. I keep picking up new things and saying "a-ha", when I reread it. I've needed extra support recently. Thanks a bunch! :)

Submit
Sunday, August 05, 2001

Hey Jo Jo, Is it to your benefit to relocate all the way across country with your husband? If you've made up your mind to leave (I'm not clear if I read that or not), seems like the perfect exit opportunity - let him move by himself! Bruises - Yuk! don't stop posting! Perdida

Submit
Sunday, August 05, 2001

Catbox...Welcome JoJo! Speaking for myself, the first time I posted was the day I really opened up and admitted to the reality I was living. Your post hit quite a few chords. I have heard so much of the same thing and now realize I really need to read more about this narcissist stuff. The situation you are living with sounds tough, but I don't get the impression the counselor is helping you. Feeling sorry for someone else to the point of irrational guilt is what caused me to push aside my own reality far too long. Norma, hope your dog is okay! L